About the Book: Maybe you have never asked the question out loud, but you have wondered. You do the things that look good on paper: read your Bible, pray, attend study groups and go to church on Sundays.
But you are not convinced you really know Him.
Angie Smith understands, because she had run circles around the same paths searching for Him, frustrated at her lack of progress. And she probably would have continued to do so had it not been for one realization that changed everything.
She wasn't following God; she was trying to catch up with Him.
And without realizing it, you may be as well.
It's a distinction that affects every aspect of our lives with Christ, and it begins with learning where we've relied more on man's explanation of God than God Himself.
So many requirements, so many rules, and so much guilt where there is supposed to be freedom. It's the reason you wonder if you've measured up, and the nagging voice that tells you you're a failure as a Christian.
Three simple words changed everything for Angie, and she believes they can do the same for you.
Stop chasing God.
About the Author: Check out Angie's blog at AngieSmithonline.com. Angie loves receiving letters from readers like you. Please feel free to email her at angelac519@gmail.com. Though she is unable to respond to every email, she reads them all. Many thanks for reaching out! Angie is the wife of Todd Smith (lead singer of Dove Award winning group Selah), best-selling author of Mended, I Will Carry You, and What Women Fear, and one of the most popular speakers and blog writers in the country. She holds a Master's degree in Developmental Psychology from Vanderbilt University and lives with her husband and daughters in Nashville, TN.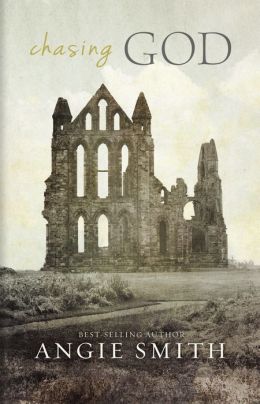 My Review: This is an amazing book. When we think we have everything figured out, we realize that we really do not know Him. And Angie open our eyes for that fact, using a very colloquial language, very simple and easy to understand. She proves to us that we are using the wrong approach to reach God. Many different aspects touched me deeply in this book, while I was reading it. The more we want to be close to God, the more we chase Him e the more we get frustrated for not sensing that communion we seek. But as she stated clearly, "we can't comprehend the truth in all it's wild simplicity, so we create a version of Christianity that appeals more to our sensibilities". How deep this sentence goes. Like herself, I am also a very intuitive person, so I have exactly the same feeling that I did not try hard enough to achieve my intimacy with God. And the capstone came in the form "When we spend more of our time searching for assurance than we do acting our of belief, we are chasing God". How true that thought is! So I start having the feeling that the author had some points on her assessments, and I was identifying myself very much with her thoughts. And when she gave suggestions on how not to chase God, I was devouring the book like it was my last supper. "Don't wait for the miracle you think will make it clear. Confess your belief and then act out of that determination". And every page I turned I read more advises that at the end I was astonished on how far away I was going on my approach to know God.
If you really want to know your God, I recommend you read this book on how to reach him and not incur in the same mistakes I did. Like the author, "I don't want to run anymore. I want to kneel".
Excellent reading, I recommend this book to the permanent library of any serious Christian who wants to improve his relationship with our God, that loves us so much!

This book was written by Angie Smith and published on December 2013 and I received a copy for reviewing from the author (through Icon Media Group (Thanks, Kelsey)). I was not requested to provide a positive review. Opinion expressed here is my own.

If you read this review, feel free to leave a comment!