About the Book: When the Polar Ice Sheet mysteriously expands by thousands of square miles, the sudden freezing temperature begins to alter the weather patterns on a global scale. At the same instant, an earthquake destroys the City of Victoria Canada, and awakens the sleeping Mount Baker volcano north of Seattle. Alex joins the owner and scientists on the research ship, Mystic, who had accidently activate a mysterious device deep in the Pacific Ocean off the coast of Washington. Soon they discover that another strange device has been activated in the Arctic Ocean, and is causing the increasing size of the Polar Ice sheet. If it continues, the world will enter a new ice age.
As they begin a harrowing journey to locate the device and shut it down, they don't realize that the Captain and his first mate plan to murder the crew and steal the Mystic before they complete the mission. If Alex and the scientists fail, humanity will be extinguished by COLD ENERGY.
About the Author: "Hello. I would like to take you on exciting adventures here on our planet, with courageous people in dangerous situations, desperately trying to save humanity.
I'm a retired federal firefighter from Whidbey Island, Washington. Before that, I was an electronics technician and part time mechanical engineer at the Puget Sound Naval Shipyard. I was in the military, and served in Vietnam. Being retired allows me to write full time and blend my knowledge with my imagination to create the adventures I would like to go on. When I was fourteen I moved to a small place called Orcas Island in Puget Sound; a community of around seven hundred people at that time. Fortunately for me, the famous horror writer, Hugh B. Cave, lived on one of the islands and became my mentor, though I don't write in that genre. The most important lesson he taught me was, only write what you know. Accurate details lend credibility and believability to the story. With that in mind, I do extensive research for my stories. Thanks for joining me on my adventures. It's not always easy finding good books to read. If you liked this one, please write a review on Amazon. Thanks! James M. Corkill. You can visit me at http://jamescorkill.com/.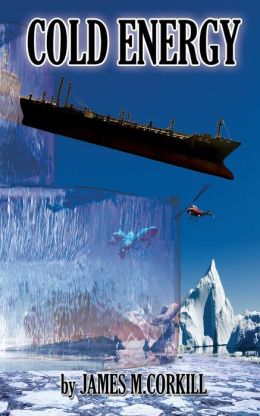 My Review: This is a brilliantly written story, that develops in a fast pace . If you thought that the story of our hero, an ex-CIA agent named Alex Cave, could not get better after Dead Energy, you were completely wrong. In this episode, world is experiencing some strange strong earthquakes that affects only a very localized area and other major climate changes. Alex Cave is involved in the journey to figure out what is going on, as his hometown is directly affected by the situation. With the help of friends on a research boat named Mystic, they found a device that, if activated, is causing all those problems. Soon they realize that there is more than one device on Earth and they enter in a run for saving the planet before it is too late. There are unexpected opposition from inside their group and the story develops in a very fast pace. You will read the book on the edge of your seat. Every turn of a page brings more excitement and it is guaranteed that you will be entertained for hours. It took me about ten hours to read the whole book.
I just hope this is not the end of Alex Cave adventures! I can hardly wait to read more! You definitely should try James Corkill's books. His intelligent plots are here to stay.
This book was written by James M.Corkill and I received an electronic version for reviewing. I was not requested to provide a positive review. Opinions expressed here are my own.
If you read this review, feel free to leave a message.