About the Book: RIVERWALKER features the character debut of San Antonio Police Department veteran detective Gifford Holloway, a former Special Agent with Army Intelligence. Holloway is in pursuit of the most despicable of criminals, a savage murderer who victimizes children and dumps their remains in the water and along the banks of San Antonio's beautiful and world-renowned River Walk attraction. Frustrated at the lack of progress on the case and spurred on by an encounter with the mysterious Madame Candelaria, a local psychic, Holloway contemplates calling upon his special gift of "seeing", though officially off-limits within the SAPD, to help solve the case and bring an end to the terror. Along the way, Holloway finds an ally in newspaper reporter, Salma Veramendi, who carries her own history of abuse. On the bend of the river looms Adler's Antiques, a historical landmark owned and operated by Karl Wolff Adler, a drug-pumping psychopath descended from a familial series of predators dating back to 19th century Germany. Himself a victim of horrendous child abuse, Adler is the son of a Nazi father and the stepson of a Mexican bruja, a witch, who practiced the "old" religion. Operating from deep within his secret lair beneath San Antonio's most recognizable and sacred shrine, Adler assumes the guise of Tlaloc, Aztec god of storm, thunder, and --- child sacrifice. Adler's demonic reign of terror, acting upon a distorted internal belief system --- a synthesis of Norse mythology and ancient Aztec practices –- has a stranglehold on the residents of San Antonio. Adler has become the Riverwalker. When his own daughter is suddenly abducted, Holloway pulls out all the stops and, with Salma by his side, closes in on the killer in a gripping climax.
About the Author: Bud Bradshaw's thriller/paranormal novel, "Riverwalker," is his second work, the first being "Brandishing," the true-crime account of the California Highway Patrol's worst tragedy and its aftermath. Bradshaw's formal writing experience began with the U.S. Army, writing intelligence reports while serving as a Special Agent with the 109th M.I. Group in Baltimore from 1969-71, and later continuing with med-legal report writing as a Qualified Medical Evaluator and Disability Evaluator. Along the way, he also worked for several years as a professional musician while earning his B.S. and D.C. degrees. As an artist, Bradshaw's work focuses on military history and the American West, with many of his paintings, prints, and giclees appearing in private collections and museums throughout the United States, Canada, and Europe. You may view his website and blog at budbradshaw.com/blog, or contact him via Facebook or Twitter @budbradshaw1.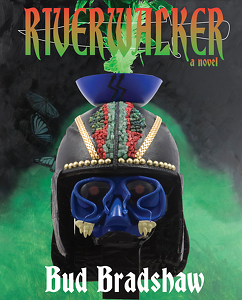 My Review: This is a very interesting book that will captivate your full attention from the beginning and you will finish reading it at the edge of your chair and will not notice that the time passed at all.
The author did a magnificent job on the construction of the characters. They are rich in personality and the whole ambient is very well described, making us feel as part of the story, living the actions and cheering for the success of our detective.
The plot is simple to follow: an old San Antonio Police Department detective (Gifford Holloway) goes after a serial killer and in the hunt for the man he crosses his path with some different characters, each one bringing his/her own story to enrich the plot. From the gorgeous newspaper report Salma Veramendi to the strange paranormal Madame Candelaria, all characters will leave a strong impression on the reader. And Karl Adler, with all his "inheritance" from a troubled family is the cherry on top of the cake. Excellent entertainment, thinks get only better towards the end, when Holloway's daughter is abducted.

I recommend this book to the permanent library of any reader who loves a very well written thriller/paranormal/mystery story. It took me around 9 hours to read the whole book.

This book was written by Bud Bradshaw and I received a complimentary copy of this book for reviewing in electronic format. I was not requested to provide a positive review. Opinions expressed here are my own.

If you read this review, fell free to leave a comment!