About the Book: Cayden Silversun is part Elven, part Fae, part human Wizard—and all rebel. His aristocratic mother would have him follow his father to the Royal Court, to make a high society living off the scraps of kings. But Cade lives and breathes for the theater, and he's good — very, very good. With his company, he'll enter the highest reaches of society and power, as an honored artist — or die trying. Cade combines the talents of Merlin, Shakespeare, and John Lennon: a wholly charming character in a remarkably original fantasy world created by a mistress of the art.


About the Author: Melanie Rawn (born 1954) is an author of fantasy literature. She received a BA in history from Scripps College and worked as a teacher and editor before becoming a writer.
She has been nominated for a Locus award on three separate occasions: in 1989 for Dragon Prince in the first novel category, in 1994 for Skybowl in the fantasy novel category, and again in 1995 for Ruins of Ambrai in the fantasy novel category. The third novel in the "Exiles" trilogy has been "forthcoming" for over a decade due to the author suffering from clinical depression and moving on to other projects to facilitate her recovery.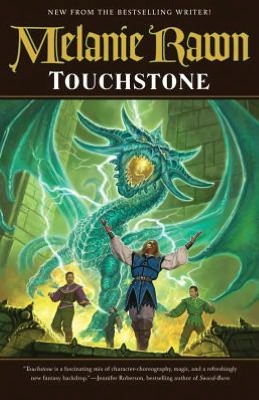 My Review: This is a very interesting book, although not very easy to read. The author was brilliant in the creation of the environment where the story develops. Her fantasy world has characters from mixed races like giants, elves, trolls etc. Our main character is Cayden and his wish is to assemble a theater troupe. In his land, those groups are composed of four members. He has two other old friends (Rafcadion and Jeschenar) that want to join him. The fourth one is Mieka. Magic is performed to create illusion on each play. They start to being recognized as good and they are invited to participate in a contest to see which troupe is the best in the land.
The author uses a lot of terms defined later at the end of the book in a long glossary, and that is why I mentioned earlier that this is not an easy reading at all. But it is entertaining. If you have the patience to dig into the glossary and find the meaning of the term, you will definitely enjoy the book.

This book was written by Melanie Rawn and was Published by Tor Books on February of 2012. Amazon.com was kind enough to provide this book for me through their Vine Program for reviewing and I was not request to provide a positive review. Opinions expressed here are my own.

If you read this review, fell free to leave a comment!